JustHost is a fast growing hosting company under management of JustDevelopIt. JustHost has quickly grown into one of the big names in hosting industry in a very short time. From what I observed, the hosting company is best for shoppers looking for budget and blog hosting.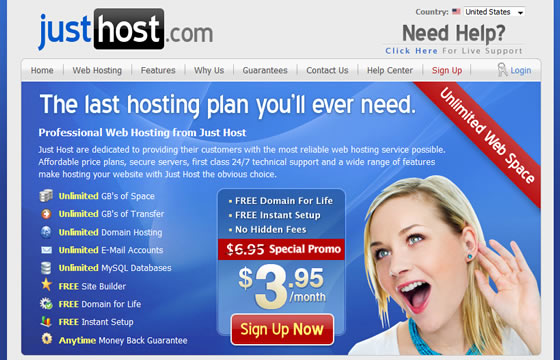 Learn more about JustHost on the FAQ section below.
What types of hosting service do JustHost offer?
JustHost offers two shared hosting plans – JustPlan and JustPlan Premium. Both hosting plans offer unlimited disk space, bandwidth, email accounts as well as every other feature you expect from a professional web hosting company; the differences between these two package are the price and the number of free domain. For JustPlan Premium, monthly price is $8.95/mo, users get 3 free domains for life; while for JustPlan, monthly price is $3.95/mo, users get 1 free domain for life.
Which JustHost plan is better – JustPlan or JustPlan Premium?
JustPlan is apparently the better hosting plan. You pay extra $60 annually just for 2 free domains – which is rather foolish as domain registration normally cost $10 annually (per domain).
How long does JustHost trial period last?
JustHost trial period NEVER last. With the company's 'Anytime Money Back Guarantee' policy, JustHost allow users to get pro-rated money back anytime when they cancel their account. In other words, this means your trial period with JustHost will never ends.
Is there any differences in term of pricing for different subscription period at JustHost?
Yes, prices do change when you subscribe to a longer (or shorter) period. In summary:
| | | | | | |
| --- | --- | --- | --- | --- | --- |
| Subscription Period | Monthly | 6 Months | 12 Months | 24 Months | 36 Months |
| Price/mo | $7.95 | $6.95 | $5.95 | $4.95 | $3.95 |
As JustHost provide 'Anytime Money Back Guarantee', I would advise users to go with 24/36 months subscription plans as it's much cheaper or use JustHost coupons for saving too .
What're the available payment methods for JustHost ?
Justhost accept credit card and PayPal payment.
Do you recommend JustHost?
Yes, I do recommend JustHost hosting. I was lucky enough to get a free trial account with JustHost. After spending some time in testing and reviewing them, I find their service reliable and above par.
Is daily backup service available at JustHost?
Yes, but with additional cost. You can activate the daily backup feature in your cPanel account, simply login and select the 'Daily Backup' in the Optional Account Addons section. Do note that, however, this feature will cost $24.95/year.
How much bandwidth and disk storage do I get from JustHost ?
JustHost offer unlimited web hosting storage and data transfer.
Can I do CGI scripting on JustHost?
Yes, JustHost allow CGI scripts usage as long as the script is not harmful (buggy scripts and scripts used for spamming purpose) to the web servers. Also, do note that JustHost management requires all CGI scripts permission set as 755 (rwx-rx-rx).
Can I upgrade my hosting plan with JustHost at a later stage?
Yes. In fact JustHost do offer dedicated hosting services but it's not listed in the standard package. If you are interested in upgrading your current JustHost hosting plan, please contact their support team at: support@justhost.com.
What kind of technical support is provided at JustHost?
JustHost provide 24/7 technical support via phone, live chat channels and email-ticketing system. Also, video tutorials and extensive knowledgebase are available for all JustHost users.
How long will it take to get my website online with JustHost ?
Basically your JustHost account will be ready as soon as you make your payment. However it normally takes 24-72 hours for the DNS system to sort out (which is out of JustHost's control), so please expect one to three days waiting time before your website is fully functioning.
What kind of control panel are JustHost using?
JustHost support cPanel hosting. For reference, please see figure below.
Can I host adult websites at JustHost ?
Yes, JustHost allow adult websites.
Do JustHost support auto-installation scripts?
Yes, JustHost support most popular web apps auto-installation by employing Fantastico. In general, here are the web applications you can auto-install.
Blogging

WordPress
b2evolution
Nucleus

CMS

Joomla
GeekLog
Mambo
phpNuke
phpWCMS
phpWebsite
Drupal
Post-Nuke
SiteFrame
Xoops

eCommerce

CubeCart
ZenCart
OSCommerce

Forums

Image Gallery

4Images Gallery
Gallery
Coppermine

FAQ

Customer Relationship

Crafty Syntax Live
Help Center Live
osTicket
PHP Support Tickets
Support Services Manager

Web Polls

Site Builder

Wiki

Other Extras

Moodle
Open Realty
phpAdsNew
phpForumGenerator
WebCalendar
Template Express
How do I access my site using SSH?
You can purchase SSH for your account at any point through your cPanel account. Simply click on SSH in the Optional Account Addons and then click 'Add Extra'. Again, do note that this extra feature does not come free – it costs $19.95 per annum.
How about SSL Certificates? Do I get SSL Certificates with JustHost
Shared SSL Certificate is provided for all basic JustHost hosting accounts for free. You will need to upgrade your hosting account in case private SSL Certificates are needed. Go to private SSL section in the Optional Account Addons section and select 'Add Extra' from the upgrade list. Each Private SSL certificate costs $69.95 per year.
What versions of PHP and MySQL does JustHost support?
At this time of writing, Just Host support PHP 5.2.5 and MySQL 5.0.45.
Does Just Host support PostgresSQL?
PostgresSQL is not currently supported by Just Host at this time, however, they do offer MySQL. Please contact our sales team on sales@justhost.com for further information.
Is TomCat supported on JustHost servers?
On share hosting plans – No; On dedicted hosting plans – Yes. You'll need to contact JustHost technical team on support@justhost.com for further information.
I want to know more about technology behind JustHost hosting.
JustHost offer Linux hosting running on Quad Processor Servers with OC-96 Backbone Connection (400 Gigabits/s) and UPS power backup generator. The data center is also protected with FM2000 Fire Suppression and Biometrick Security system.
What are the shopping cart software supported by JustHost?
JustHost support OS Commerce Shopping Cart, Agora Shopping Cart, as well as PayPal. Further on e-commerce features, JustHost also provide free Merchant Account and Open PGP/GPG Encryption supports.