SiteGround was established in 2004 in Sofia, Bulgaria. This company is a web hosting vendor. They serve over 1,800,000 domains all over the world. Customers can find many different services including cloud hosting, email hosting, shared hosting, domain registration, and dedicated servers. Please take advantage of SiteGround coupons, offers, SiteGround discounts, vouchers, and deals to take more instant cashback during the checkout.
General questions about SiteGround Hosting 
How to contact this company?
You could connect SiteGround through the following ways if you have any questions about SiteGround coupons as well as the hosting tools and solutions:
Phone: call them through 1.866.605.2484

Social Network: send a message via the Facebook messenger feature. The customer care support team will be available to respond to you 24/7.
SiteGround's products.

SiteGround brings great hosting solutions and tools that will support your websites run smoother and faster. Besides, SiteGround services also take care of the security for your sites. The expert team of this company is ready to write custom patches to prevent software vulnerabilities. Besides, they provide a smart tool to help you manage your site following the best simple way. Customers can have an excellent experience when they use SiteGround hosting plans. 
Please use SiteGround coupons, SiteGround promo codes, and deals during the checkout. Let's take a look at the list of packages below and choose for yourself the perfect option: 
Web hosting:
StartUp
Using SiteGround coupons to get the plan at only $3.95/month insteading of regular $11.95/month 

1 Website, 10,000 Visits Monthly, 10 GB Web Space
GrowBig
$5.95/month instead of regular $19.95/month

Unlimited Websites, 25,000 Visits Monthly, 20 GB Web Space
GoGeek
$11.95/month instead of Regular $34.95/month

Unlimited Websites, 100,000 Visits Monthly, 30 GB Web Space
Reseller Hosting:
Benefit from special domain prices starting at $14.95/year (please remember to use SiteGround coupons to save more)

Resell our services at any price you want to increase your revenue

Free Email Accounts, MySQL & PostgreSQL Databases, Free SSH and SFTP Access, cPanel & Softaculous

Servers on Three Continents, SSD Storage, Customized Server Setup, Free CDN with Each Account, Multiple PHP Versions (7.4, 7.3, 7.2, 7.1, 7.0 and 5.6), HTTP/2 enabled servers

Power Redundancy, 30 copies Free Auto Daily Backups, Hardware Redundancy, Anti-Hack Systems & Help

SPAM Experts Spam Prevention, Free Let's Encrypt SSL Certificates, LXC-based stability, Free Shopping Cart Install, Proactive updates and patches, Unique Account Isolation

FTP Accounts, The Fastest Server Monitoring
Cloud hosting:
Entry
Only $80.00 per month, 2 CPU Cores, 5 TB Data Transfer, 4 GB Memory, 40 GB SSD Space
Business
Only $120.00 per month, 3 CPU Cores, 5 TB Data Transfer, 6 GB Memory, 60 GB SSD Space
Business Plus
Only $160.00 per month, 4 CPU Cores, 5 TB Data Transfer, 8 GB Memory, 80 GB SSD Space
Super Power
Only $240.00 per month, 8 CPU Cores, 5 TB Data Transfer, 10 GB Memory, 120 GB SSD Space
Dedicated servers:
Entry Server
$269.00/month with SiteGround coupons 

Intel Xeon E3-1230 SSD, 3.20Ghz CPU Clock Speed, 480GB SSD, 4 CPU Cores, 8 CPU Threads, 10TB Bandwidth, 8MB CPU Cache, 16GB DDR3 RAM
Power Server
$349.00/month 

Intel Xeon E3-1270 SSD, 3.50Ghz CPU Clock Speed, 4 CPU Cores, 32GB DDR3 RAM

8 CPU Threads, 960GB SSD, 8MB CPU Cache, 10TB Bandwidth
Super Power Server
$729.00/month

2 x Intel Xeon E5-2630 SSD, 64GB DDR3 RAM, 2x960GB SSD in RAID1, 15MB CPU Cache

2.00Ghz CPU Clock Speed, 2 x 12 CPU Threads, 2 x 6 CPU Cores, 10TB Bandwidth
Web Hosting for Agencies:
GrowBig
$5.95/month instead of regular $19.95/month

Unlimited Websites, 25,000 Visits Monthly, 20 GB Web Space
GoGeek
$11.95/month instead of regular $34.95/month

Unlimited Websites, 100,000 Visits Monthly, 30 GB Web Space
Cloud:
$80.00/month instead of regular $80.00/month

Up to 2 CPU cores, Auto Scaling option, Up to 4GB memory

Customizable resources, Up to 40GB SSD
Student hosting:
All the features of a regular hosting plan, Free accounts for students for the duration of course

Special student pricing for 1 year, Fully-featured instructor account with LMS integration

Easy to use, great support, Custom sign-up page for your school/course
Tell me more about enterprise support. 
First of all, SiteGround listens to your demands. Then they will help you to create and build the infrastructure quickly following your request. Your businesses could contact directly customer support team through Slack/Skype, personal phone, email, and more. Any issues your companies have to deal with, SiteGround will help you by providing you the top level of technical professional experts. 
Special SiteGround VPS coupons at this time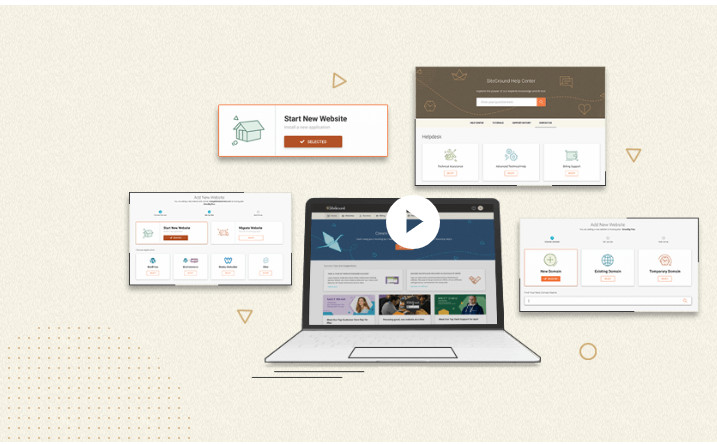 There are many different SiteGround VPS coupons and voucher codes for you now. Just take a look and grab for yourself the best code. 
Get SiteGround coupons starting at $3.95 per month

Take SiteGround discounts starting from only $15.95/year  for registering a new domain

Enjoy SiteGround 70% off

Receive SiteGround 75% off 
Does SiteGround have an affiliate program?
Yes. SiteGround gives you a great chance to earn money. You can make more money by introducing other customers. For more information about this program, you can visit the website of SiteGround.
What payment methods can I use?
There are many useful payment methods including Visa, MasterCard, and American Express for you. Please use SiteGround coupons, SiteGround discounts, offers, and deals to save the best when you shop at this store. 
Conclusion
SiteGround has been through more than a decade and a half in development. They provide the best hosting solutions and tools for customers. Don't forget to use SiteGround coupons and discounts to make more money off when you make any transactions.