Founded in 2008 in California, GreenGeeks is a relatively new entry in the hosting lineup. One of the most transparent companies we encountered, GreenGeeks provides straightforward information about its services. Nothing's hidden in small print.
If you share our concern about the environment, you'll be happy to know that the GreenGeek servers are 300-percent wind powered. (The 300 percent means the company produces three times more energy than its servers use.) This puts them at the top of the most environmentally friendly hosting companies. However, are their hosting services also giving 300 percent? Let's find out.
Hosting plans
When it comes to the specifics of their hosting plans, GreenGeeks provides detailed lists of what you'll get with specific packages. You'll also get daily backups with their plans.
Shared hosting is the only type of hosting where you will be offered only one plan. It will give you unlimited domains, disk space and bandwidth. Buy it through this link
Reseller hosting has five options.
Seed: 50GB of disk space and 500GB of bandwidth.
Sprout: has 80GB of disk space and 800GB of bandwidth.
Plant: 120GB of disk space and 1200GB of bandwidth.
Tree: 160GB of disk space and 1600GB of bandwidth.
Forest: 200GB of disk space and 2000GB of bandwidth.
VPS hosting also has five plans. Unusually, they don't have picturesque names, but they are named after the amount of RAM that you get with each and they all give you 4 cores.
1GB RAM: 25GB of disk space and 1000GB of bandwidth.
2GB RAM: 50GB of disk space and 1500GB of bandwidth.
3GB RAM: 75GB of disk space and 2000GB of bandwidth.
4GB RAM: 100GB of disk space and 2500GB of bandwidth.
8GB RAM: 125GB of disk space and 3000GB of bandwidth.
Dedicated hosting has four plans. They all give you five IP Addresses and
10 000 GB transfer.
Entry server: Intel Atom 330 Dual Core, 2GB DDR 3 memory and 1x 500GB SATA Drive.
Standard server: Xeon E3-1220 3.1Ghz, 4GB DDR 3 memory, and 2x 500GB SATA Drive.
Elite server: Xeon E3-1230 3.2Ghz w/HT, 8GB DDR 3 memory, and 2x 500GB SATA Drive.
Pro server: Xeon E5-2620 2.0Ghz w/HT, 16GB DDR 3 memory, and 2x 500GB SATA Drive.
Features
There isn't anything unusual in the GreenGeeks setup and login process. After thetypical billing and information exchange, your new account will be up and running quickly. Among informational and billing emails, you will receive a "Getting started" email, which is a welcoming touch. After your first login in the Account Manager, you'll be welcomed with your information in the prominent place (redacted information in the picture). We're not sure that this is the best place for it; it was more of an annoyance than anything else.
The dashboard is simple and minimalistic. On the main page, you'll see all essential information plus access to other parts of the portal. There are six main tabs: Dashboard, My Services, My Domains, Billing, Support and Open Tickets. The first tab takes you to the homepage, the second one lists your services and the next two tabs are self-explanatory. While we're not sure why Open Ticket isn't under Support, it's nice to have one fewer click.
If you were wondering why there isn't chat support under, well, the Support tab, that's because it has its own button on the far right, just under Hello, (Name) tab where you can sign out or edit profile information. In general, the whole Account Manager portal is clean and straightforward, and it's virtually impossible to get lost or misunderstand anything. However, if you want to fiddle directly with your website, you will have to go to the control panel.
Control panel
You can log in to your control panel from the Account Manager, with one click, literally. You won't need any other login details. On the other hand, we didn't find a way to get a direct login username and password for the control panel. The login detail we received for the Account Manager didn't work and we couldn't change it because we needed to know our old one in order to change it. A bit of annoyance, because in order to get to your control panel, you will always have to go through Account Manager. This means you'll have an extra click every time.
The cPanel is pretty standard with the expected features: domain management, security and databases, email settings, SEO, marketing tools and some advanced options. The CloudFlare section is a nice bonus. Essentially, it's a tool for speeding up your website. If you don't like the standard x3 theme, you can switch to paper_lantern.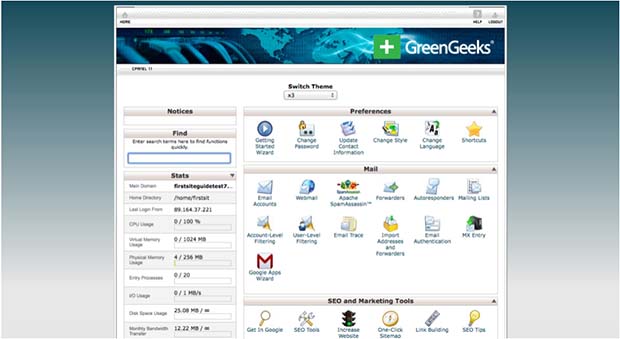 Creating and setting up your website or blog
While searching in the cPanel for direct installation of any kind of CMS, you'll find an icon for Softaculos one-click installation. There you will be welcomed with the top scripts, CMSs like WordPress, Joomla, Magento, Drupal, AbanteCart, PrestaShop and others. There are a bunch of other scripts there, too, and they range anything from standard forums, social networks, polls and surveys to ecommerce, gaming, ad management and more.
You will, of course, be able to upload your own files. You'll get information about FTP login via one of your welcoming emails. If, on the other hand, you want to build everything yourself on Website Builder, you'll be able to do that, too. This is a customized builder that you'll need to install. Although you'll be charged for the installation, everything else on Website Builder is free, with no hidden fees. Just like sPanel, you will be able to access the builder from your Account Manager. It's drag-and-drop builder that has 10 beautiful templates for you to get started with. Bear in mind that it's also very Google Map and Youtube friendly.
Email
There isn't much fuss when it comes to your email. It's easy to set up and establish limits for the inbox, with the usual password strength check up. If you are web client user, you'll have Horde, RoundCube and SquirrelMail. There are standard spam filters, forwarding and auto responding tools, and integration with Google apps. All in all, the basics are covered.
When it came to testing up the uptime of our website, it performed with impressive 99.99 percent uptime. As for downtime, UptimeRobot couldn't even register one second of it. Yes, it was that short. However, it left us wondering if perhaps, that wasn't an UptimeRobot glitch. In any case, GreenGeeks has a near-perfect record with us.
Load test
Our server was in Chicago and we tried to get average values from all over the world. However, putting a finger on the average value of a certain place was tricky and we can't say that we got it. The problem is that the results looked a lot like an ECG from a patient with arrhythmia. The best example of this could be the average response from Ashburn, Virginia (which you can see below) was around 40 seconds with extreme ups and downs. However, putting a finger on the worst-case scenario was a bit easier. It happened in Sydney and the response time was around 2 minutes, twice for the same test.
If we talk about other parts of the world and the U.S., there was no consistency in response times. Palo Alto, Portland, Singapore and Tokyo all had response times of around 20 seconds with spikes that went up to 1 minute. Dublin even peaked at a minute and a half. While the response time at the beginning is relatively good, at around 15 virtual users, things would go haywire. That is a relatively low number, so getting this kind of slow and inconsistent response dips deep in the danger zone. As far as loading stress test goes, GreenGeeks should go back to school.
Help and support
Support will provide you with all essentials: tickets, chat, knowledge base, video tutorials and phone support. The only thing that's missing is community help. Although community help can be a mixed bag of goods, at least it gives some sense of the size of the user base. And there's always the psychological effect of "I'm not going through this trouble alone/first."
Additionally, tutorials and the knowledge base weren't under the Support tab in the Account Manager. If you want to access them, you'll have to search for them on the GreenGeeks homepage. That aside, the knowledge base and video tutorials are very helpful and their response time for tickets is relatively fast.
Their chat support was also fast and helpful and seemed really geeky. However, sometimes they were also a bit frazzled, not to mention too hasty while reading our requests. To be more specific, while asking a question on how to un-install WordPress, the answer told us how to install WordPress. Nothing that one "Excuse me" couldn't resolve, but it showed some cracks in the usually polished surface. We know that it's important to help everyone, but mistakes should not be made at the expense of trying to solve everything as fast as you can.
Pricing
Shared hosting
The shared hosting package was on sale during our testing period. We bought it for $3.96 per month, instead of the regular $9.95 a month.
Reseller hosting
| | |
| --- | --- |
| Seed: | $19.95 per month |
| Sprout: | $24.95 per month |
| Plant: | $39.95 per month |
| Tree: | $59.95 per month |
| Forest: | $99.95 per month |
VPS hosting
| | |
| --- | --- |
| 1 GB RAM | $39.95 per month |
| 2 GB RAM | $59.95 per month |
| 3 GB RAM | $79.95 per month |
| 4 GB RAM | $99.95 per month |
| 8 GB RAM | $159.95 per month |
Dedicated hosting
Dedicated hosting is the most expensive option.
| | |
| --- | --- |
| Entry server: | $169 per month |
| Standard server: | $269 per month |
| Elite server: | $319 per month |
| Pro server: | $439 per month |
GreenGeeks—at a glance
Pros
one of the most ecologically conscious hosts
99.99 percent uptime
sleek dashboard
one login for everything
Cons
missing community support
very inconsistent loading times
one shared hosting plan
inability to get separate cPanel login
Conclusion
GreenGeeks is the health freak of the hosting world. It's in your face with its healthy lifestyle, or in this case, environmentally friendly business. And in this case, we love it that they are upfront about it, because we all feel better when we can contribute to preserving our planet. If you add a daily free backup, you feel like you're saving both virtual and natural data.
It's a bit outdated to promise 99.99 percent uptime and it's not something you'll see on many hosts' homepages. GreenGeeks promises you 99.99 percent uptime and they stick to their promise. Although there have been a few complaints about customer service, we had no major problems. But, of course, we could be the exception. The lack of community support isn't encouraging, and the very erratic loading times are an embarrassment. There aren't many downsides to the basic shared hosting, but it may not have the cheapest renewal rate out there and it may not be enough for those that are looking for something with the stable response time and more than a dozen users at the same time online. All in all, GreenGeeks is a good service, but don't be afraid to check out other options first.
**Source : https://firstsiteguide.com/hosting/greengeeks/