Founded in 1997, GoDaddy began as a domain registrar and eventually branched out to web hosting. Today, it is the single largest ICANN-accredited registrar, serving more than 12 million customers. GoDaddy is also famous for its Super Bowl and NASCAR commercials (sometimes called out "raunchy and sexist" by feminists) featuring celebrity spokespeople. There is no denying that it's the giant in the hosting industry, but is it more Antaeus or Hercules?
Hosting plans
When it comes to hosting services and plans, GoDaddy is one of the most versatile hosts out there.
Shared hosting has three plans.
Economy: one website, 100GB disk space, unlimited bandwidth and 100 email addresses.
Deluxe: unlimited websites, storage and bandwidth, and 500 email addresses.
Ultimate: unlimited websites, storage and bandwidth, and 1,000 email addresses.
WordPress hosting comes in four plans.
Basic: one website, 10GB SSD storage, 25 000 monthly visitors and SFTP access.
Deluxe: one website, 15GB SSD storage, 100 000 monthly visitors, SSH/SFTP access, one-click staging site and SEO plugin.
Ultimate: two websites, 30GB SSD storage, 400 000 monthly visitors, one-click staging site, SEO for two websites, malware scan and removal for two websites and 1 SSL certificate that is free for the first year.
Developer: five websites, 50GB SSD storage, 800 000 monthly visitors, SSH/SFTP access, one click staging site and 1 SSL certificate that is free for the first year (although logically, SEO optimisation and malware protection should be included here, they are not listed).
Additionally, there are two upgrades you can add to those hosting plans. Dedicated IP is just that. With it, you can buy your own unique IP address and that way you don't need to share IP address with others. The other is premium DNS. It gives you unlimited domains for one price and other upgrades and uptime promises, that GoDaddy can give because they are the largest ICANN-accredited domain name registrar.
Cloud hosting has five plans that are titled by GBs.
20GB: 512MB memory, 1 core processor, 20GB SSD disk and 1TB transfer.
30GB: 1GB memory, 1 core processor, 30 GB SSD disk and 2TB transfer.
40GB: 2GB memory, 2 core processor, 40GB SSD disk and 3TB transfer.
60GB: 4GB memory, 2 core processor, 60GB SSD disk and 4TB transfer.
80GB: 8GB memory, 4 core processor, 80GB SSD disk and 8TB transfer.
VPS hosting also has five plans that are identified by their RAM.
1 GB RAM with 40GB of storage and 1TB bandwidth.
2 GB RAM with 60GB of storage and 2TB bandwidth.
3GB RAM with 90GB of storage and 3 TB bandwidth.
4GB RAM with 120GB of storage and 4TB bandwidth.
8GB RAM with 240GB of storage and 8TB bandwidth.
Dedicated hosting also has five plans, also identified by their RAM.
2GB RAM with 512GB of storage and 5TB bandwidth.
4GB RAM with 1TB of storage and 10TB bandwidth.
8GB RAM with 1.5TB of storage and 10TB bandwidth.
6GB RAM with 2TB of storage and 15TB bandwidth.
32GB RAM with 2 TB of storage and 20TB bandwidth.
Features
After the usual pay-to-play signup process, you will receive an email confirmation. After that, your domain and account will be ready for you to use. Login is simple; you can choose your username (not all hosts give you this option) and you will be advised on the strength of your password. There is no fancy name for your homepage, just a simple My Account. There you will see general information about your account, what you purchased and what you can manage.
At the top of the screen, you'll see a bar where you can change your region and currency, view telephone support numbers, access Help, have quick access to few links and your shopping cart. Below that are tabs: All Products, Domains, Websites, Hosting, Web security, Online Marketing and Email Office. Each tab is a drop-down menu.
The first tab, All Products, contains all the tabs listed above. You will see what's new, what's on sale and what you can test out for free. Coupons and GoDaddy Pro are on the same menu bar. While coupons are, well, coupons, GoDaddy Pro is a product that addresses the needs of web developers and designers, providing tools to help them manage clients and their products.
Under all that, you'll see your account info and the link for allowing access your account, or requesting access to other accounts. Beneath that are several tabs connected to your account information. Products gives you a look at your purchased products. Payments, Renewals and Account Summary are self-explanatory and Settings is where you edit all your information and the basics of your account.
Control panel
We didn't mention that you can access the cPanel from My Account because there isn't an obvious way to do it. Your access to the cPanel is hiding under the Products tab. There's a Web Hosting Bar from which you activate a drop-down menu by clicking on the Plus button on the left. There you'll see all of your hosting accounts and on the right, you'll see a green Manage button. Click on that you'll be taken to the cPanel. Although it may sound complicated and we must admit that it is not usual in-your-face place for cPanel access, after the first few log-ins, it becomes intuitive.
The cPanel has a customized skin that's clean and pleasing to the eye. It works great and blends everything you need with GoDaddy aesthetics. On the left, you will see all your (collapsable) statistics. The main section will be crowded with your usual cPanel stuff, from Files Management, Databases, Domains, Email, Metrics and Advanced, which contains things like Cron Jobs, Indexes and Error Pages. At the bottom of the screen is a Resource Usage icon that tells you your CPU usage.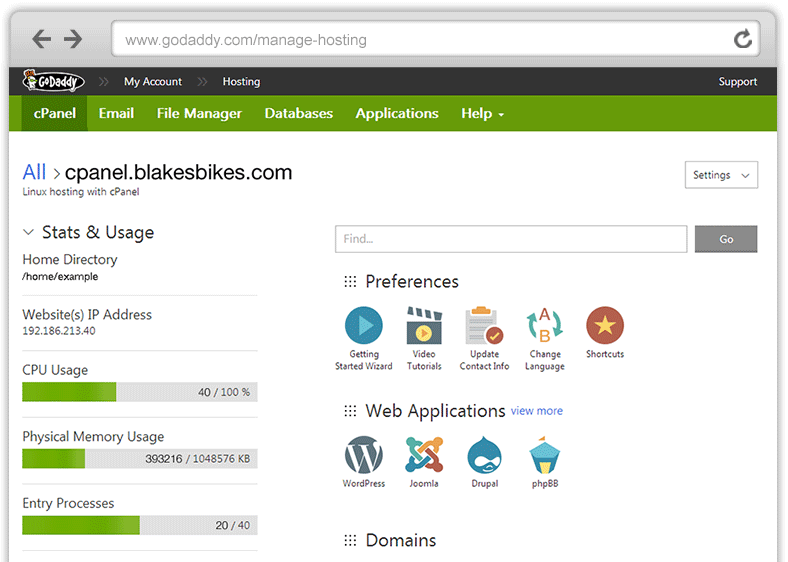 Creating and setting up your website or blog
Of course, you'll have File Manager and your FTP if you need to upload your existing website. If not, there are many options that you can install with one click. There also are many applications already in your cPanel that you can install via Installatron, including some of the most popular CMSs like WordPress and Drupal. In the the e-commerce category, you'll find favorites like Magento and PrestaShop. However, if you want the best of online and offline worlds, GoDaddy offers Website Builder, but it's not free. You can choose from three different plans and pay via monthly subscription. Website Builder is very beginner friendly and WYSIWYG, but that's about it. It's a bag of mixed goods that doesn't have integrated e-commerce solutions, except PayPal Store. That's enough for some, but all in all, this particular website builder lacks a certain edge.
Email
Although most aspects of GoDaddy are customized to reflect the brand, email is an exception. Setting it up is easy and you will have your usual roster of Horde, RoundCube and SquirrelMail for your webmail application. There is no limit to your mailbox; all the necessities are there for you. Forwarders, Autoresponders, User Filters, Address Importer and even Apache SpamAssasin are at your disposal.
Reliability and uptime
GoDaddy keeps going, all right, with an impressive 100-percent uptime. Not even one second downtime a bit surprising, but in a good way. You have to look back historically to find issues with GoDaddy's uptime. One particularly dark cloud shrouded the service for about 4.5 hours on September 10, 2012. Although it was initially reported as a DDoS attack, this was later disputed. It's now believed the incident was the result of internal mistakes that led to corrupt databases. It was a serious service outage that's an exception to GoDaddy's otherwise-stellar record of performance.
Load test
Our server was located in Scottsdale, Arizona. Since it's much closer to the West Coast of the U.S., we mainly concentrated on load times on the East Coast. The average response from the Ashburn, Virginia, was about 200 ms, which is pretty respectable. There were occasional spikes, but 90 percent of the time, the response stayed under 800 ms. Ironically, tests we ran in locations nearer West Coast had slower response times. Both Palo Alto and Portland had an average response of just under a second, but the worst case scenario came from the latter. In the strange case of "what the hell happened?" Portland once had an initial response time that climbed up to almost 50 seconds and then, when there were around 7 or 8 virtual users, it returned to normal.
Overseas response was reasonably stable, too. Dublin usually had a response of 1.2 seconds, Tokyo and Sydney were at 2.1 and 2.2 seconds, respectively, and Sao Paolo was around 1.8 seconds. However, all of these tests shared one odd factor: They were often sluggish in the first seconds, meaning that the loading time would steadily climb above the average response time. Then when around five users were on the site, loading times would drop to their normal values. I guess that GoDaddy has an occasional case of Linda Evangelista's "I don't get out of bed for less than $10,000," where you just substitute dollars for users.
Help and support
If you want to be unpleasantly hit in the head, all you need is to look at the different ways of getting support. There is a knowledge base, telephone support and chat—but it's not available 24/7. Yes, there are feedback forums, but we had trouble finding them.
To make matters worse, GoDaddy very quietly discontinued email and ticketing support in 2014. We know a lot of people who just don't like using telephone support, but the real problem is the telephone bill. Sure, they are available globally in many countries and in English and Spanish in the U.S., but that leaves out a lot of countries. International calls? No, thank you!
We also gave a thumbs down to the chat support. The first issue we encountered was finding their actual working hours. Sure, it's logical to call within "working hours," but if you're not residing in the U.S., the time difference can be quite an obstacle. Adding insult to injury, sometimes you get message saying the operators are too busy so you should try later. We waited over two hours for the available expert on our first attempt to connect with chat support. The average waiting time was quite shorter, around 10 to 15 minutes, but that's still a bit longer than the competition. Additionally, the waiting time clock was often very unreliable. And we had a feeling that the operators were juggling too many clients at once, so their reaction time was sluggish. All in all, support is GoDaddy's weakest link. For some users, it may be the breaking point.
Pricing
GoDaddy often offers discounts; during our review, they varied from 16 percent to 46 percent. All prices provided here are for the monthly rate.
Shared hosting
| | |
| --- | --- |
| Economy | $4.99 |
| Deluxe | $5.99 |
| Ultimate | $7.99 |
Renewal prices increase from $6.99 to $14.99, respectively.
WordPress hosting
| | |
| --- | --- |
| Basic | $3.99 |
| Deluxe | $5.99 |
| Ultimate | $8.99 |
| Developer | $14.99 |
Renewal prices go up from $6.99 to $24.99.
Additionally, dedicated IP is $5.99 and premium DNS is $2.39.
Cloud hosting
| | |
| --- | --- |
| 20 GB | $5.00 |
| 30 GB | $10.00 |
| 40 GB | $20.00 |
| 60 GB | $40.00 |
| 80 GB | $80.00 |
Additionally, you can rent them per hour, which is a unique feature. This enables you to pay for only what you use—up to the limit of your plan.
VPS hosting
| | |
| --- | --- |
| 1GB RAM | $24.99 |
| 2GB RAM | $29.99 |
| 3GB RAM | $34.99 |
| 4GB RAM | $49.99 |
| 8GB RAM | $99.99 |
Renewal prices go up from $29.00 up to $139.99.
Dedicated hosting
| | |
| --- | --- |
| 2GB RAM | $79.99 |
| 4GB RAM | $109.99 |
| 8GB RAM | $139.99 |
| 16GB RAM | $169.99 |
| 32 GB RAM | $209.99 |
Renewal prices up the ante from $129.99 to $349.99.
GoDaddy—at a glance
Pros
many hosting plans
hourly VPS hosting
excellent uptime
Windows and Linux servers for all plans
Cons
subpar support experience
paid website builder that doesn't offer anything different from free competition
limited email addresses
relentless up-selling
Conclusion
GoDaddy is excellent on paper. There are a variety of hosting plans that are often paired with introductory discounts. This kind of choice, combined with flexibility, will most certainly satisfy
99.99 percent of people seeking a host. Uptime is flawless and loading times are fairly stable.
Despite all the glory, there are two dents in this machine. The first, less serious issue is the website builder. You have to pay for it but it doesn't offer anything significantly new compared to its free counterparts. The more serious issue is our support experience. Although our problems were solved, the wait times and the variety of the ways you can get help are below average. It's great when everything works. But you need help when there are issues—and you don't want to make matters worse by guessing your way out of a problem. All in all, GoDaddy is a famous name with a reason. It's a good starting place and more experienced users will also have plenty of choices. But bear in mind that when help is needed, it will be there…eventually.
** Source : https://firstsiteguide.com/hosting/godaddy/