A2 Hosting has been around since 2001. When it first hit the scene, it was known as Iniquinet, but it was renamed A2 Hosting back in 2003. The name may have changed, but the services and features have remained the same. The company is still known for providing blazing fast speed, superior uptime, and stellar customer service today. It manages to accomplish this by owning all of its own web servers. It has data centers in three locations, with the primary data center in Michigan and additional servers in Amsterdam and Singapore, Asia.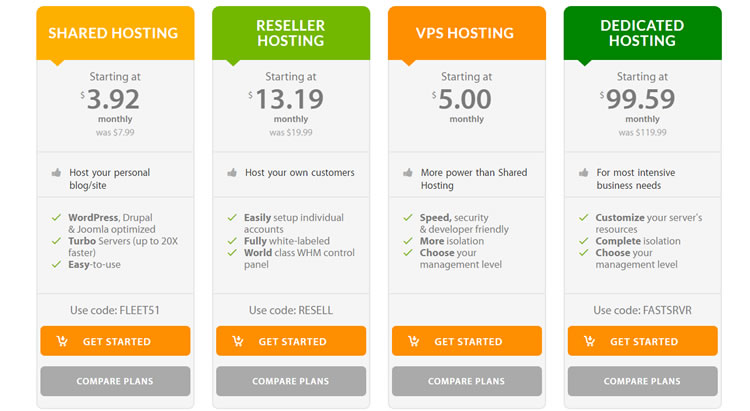 A2 Hosting: What's In The Package?
First, though, take a minute to see the different hosting plans that you can get if you use A2 Hosting. Then, I'll go over the specific features that I like with this company.
If you go with A2 Hosting, you can choose from –  shared, VPS, reseller, and dedicated server hosting.
Let's take a closer look at each of these, starting with the shared hosting plans.
I spent most of my time testing A2 Hosting's shared hosting plans.
It offers three options for shared hosting, in the form of Lite, Swift, and Turbo. Like many of the hosting companies out there, it focuses on unlimited options with its shared plans. The plans range from $3.92 to $9.31 a month, and they all come with unlimited storage and transfer, plus free SSD. In addition, the Swift and Turbo plans include unlimited websites and databases.
Regardless of the account that you use, you can integrate it with Joomla, Drupal, or WordPress. It's also easy to integrate basic shopping cart applications to create a merchant website using .
| Features | Lite | Swift | Turbo |
| --- | --- | --- | --- |
| Websites | 1 | Unlimited | Unlimited |
| Databases | 5 |  Unlimited | Unlimited |
| SSD Speed Boost | Yes | Yes | Yes |
| Turbo Server | No | No | Yes |
| Pre-configured Site Caching | No | No | Yes |
| Price /mo | $3.92/mo | $4.90/mo | $9.31/mo |
VPS Hosting
While shared hosting is the most popular option, it's far from your only choice
You can also go with Unmanaged or Managed VPS hosting with A2 Hosting. Unmanaged VPS hosting starts at $5 a month, while Managed VPS hosting starts at $32.99 a month. Choose the Managed VPS hosting option if you want a user-friendly platform and a worry-free Host-Guard Management system. Go with the Unmanaged VPS hosting option if you're a developer and you want to have full control over your server.
Reseller Hosting
A2 Hosting has three reseller hosting options available. The Produce plan starts at $13.19 a month; the Progress plan starts at $19.79 a month, and the Prosper plan starts at $36.29 a month. These plans range from 60 GB to 200 GB of storage a month and 600 GB to 2,000 GB transfer a month. They all include unlimited accounts and free SSD.
Dedicated Server Hosting
Finally, you can sign up for dedicated server hosting. Select the Unmanaged Flex Server plan or the Managed Flex Server plan. The Unmanaged plan starts at $99.59 a month, and the Managed plan starts at $141.09 a month. The Unmanaged plan is fully customizable and includes root access, while the Managed plan has a free cPanel control panel. Both provide 10 TB transfer and 8 GB of RAM.