Halloween festival is coming, on this occasion, Exabytes continue to launch incentive programs for all their products/services.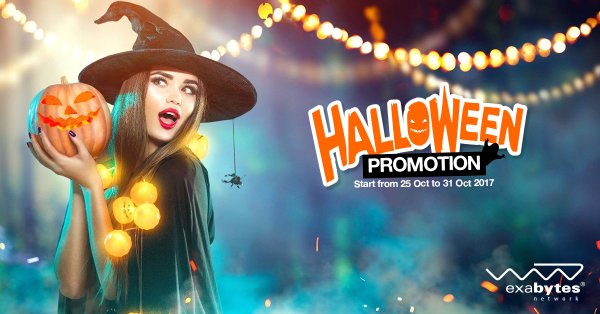 Specifically, from now until the end of October 31, 2017, when using the services of Exabytes you will receive the following incentives:
Domain
With domain name service, you can register .COM and .BLOG domains with the cheapest price.
.COM for only $ 3.99 per year when using the DOMAINHALLOWEEN coupon and get Free DNS management. Plus coupon incentives you have introduced before , in total you will buy 4 domain name .COM .
.BLOG domain only $4.99 first year and get Free DNS management
In particular, domain registrations in October will be free DNS Management services to manage DNS directly at Exabytes without having to pay an extra $ 1 as always.
Web Hosting
Hosting services are still offered at just $ 1.99 per month – up to 70% less than usual. With one year subscription, you will also be eligible for Free 1 page design, Free domain name, Free SSL and Free Whois Private for all annual plan
VPS/Server
Finally, for all new VPS / Server service subscribers, Exabytes will free upgrade the Lite Management Plan to PRO Management Plan for you to manage more effectively, up to $ 600.
Having fun!